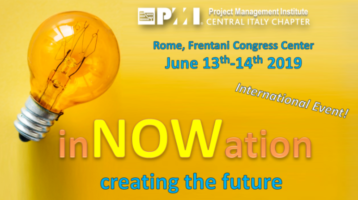 PMI Central Italy Chapter is pleased to announce a 2-day international event for you:
inNOWation: creating the future
in Rome (Italy), June 13th -14th 2019
A 2-day international event to discover how innovation, through our projects, programs and portfolios, is a key element for the success of our companies. The event will share case studies with you that highlights innovative elements in projects (technologies, processes etc.) for overcoming any project management issues. We will share best practices with more than 15 great speakers from the most successful companies and institutions from all over the world with you. Therefore, do not miss that opportunity and become part of it.
Let's unveil some of our keynote speakers:
Kozak-Holland: PhD from the Salford University Business School (UK), PMP and the author of several books, will explain why projects is a great opportunity to bring innovation into our companies.
Jennifer Hoffman: Senior Vice President at Global Risk Intelligence, will join us from Washington, D.C. and will demonstrate how AI can help on reducing risks.
David Hillson: Active in the Project Management Institute and known globally as The Risk Doctor, will honor us with his presence by talking about how a simple integrated risk process can help to stop things going wrong in our innovation projects, as well as help things go right.
Kazuo Inumaru: Teaching Social Anthropology, Japanese Management, HRM and Cross-cultural Communication will shed light on innovation in the ethical sphere.
Emad Aziz: Founder of the 'Projects to the Point (P2P) Conference and Exhibition' and BRISK Business Inc, he will analyze how the word "innovation" has become greatly associated with technology.
Randa Salem: Senior User Experience Designer and Design Lead in IBM, currently part of the IBM Hybrid Cloud Design organization, will introduce a follow on of the concept of Enterprise Design Thinking.
Roman Reznikov: SoftServe PMO Expert, winner of Best Professional in Project Management IT Award Ukraine 2017, that will show a framework that helps identify and predict dismissals risks on the projects.
Jean Vaessen: experienced telecommunications executive, Project and Program management experience at Ericsson , will report experiences on project management experiences on a 5G project on which innovative technologies are used.
Saby Waraich: Technology Leader, Angel Investor, Professor, Mentor, Coach, Project & Program Management Expert, Change Leader and Volunteer Leader, that will speak about Innovative Leadership Secrets for you, your team and your projects.
Laurent Sissmann: Unmanned Systems Senior Vice President at Leonardo Company.
Speeches will cover cross-industry case studies and experiences, from telecommunications to transportation sector, from Risk to Human Resource management.
All in a nutshell:
The event will be held at Frentani Congress Center, in the center of the eternal city, who has already hosted PMI Central Italy Chapter 20th Anniversary in October 2016. Close to several attractions of the eternal city, at walking distance from Termini Station (with connection with Fiumicino International Airport), the venue is very well equipped for this kind of event and very easy to be reached.
You will find updated information on the event on this web site: https://innowation.pmi-centralitaly.org/
For request and clarifications, please send an email to following address: inNOWation@pmi-centralitaly.org
Kind regards,
Dr. Ralf Braune, Liaison for European Chapter Collaboration, in name of
Your Board of PMI Cologne Chapter
inNOWation Conference @ PMI Central Italy on June 13+14, 2019