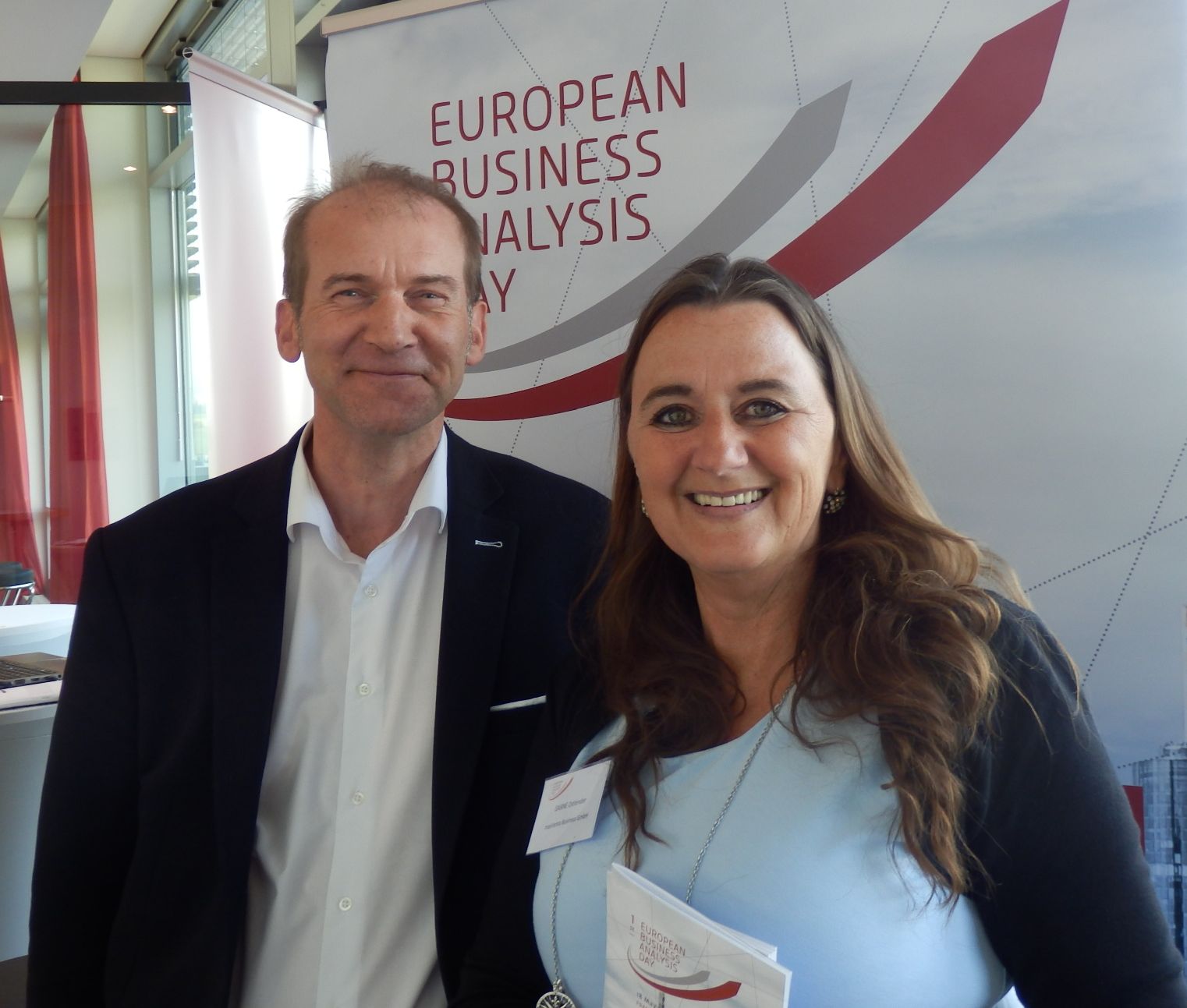 The Business Analysis (BA) as a concatenating discipline of project management goes digital and will not stop at any borders that fewer people may still think of.
To show that borders are cracking, and the digital disruption will influence the BA in particular, Sabine Ostlender and Rainer Wendt, managing directors of masVenta Business GmbH @ Alsdorf (North-Rhine Westphalia), organized the 1st European BA Day in Frankfurt on May 18, 2018.
As an introduction, Sabine welcomed over 100 participants joining the event to be taken place in the Mercure hotel @ Eschborn close to Frankfurt. The participants were coming from complete Europe such as Belgium, France, Netherlands, Latvia and even from US. She also mentioned the sponsors like PMI® from US which enabled us from PMI Cologne Chapter (PMICC) to participate as well. Here, Klaus Stephan, President of PMICC, and Robert Baumgartner, VP Finance + Sponsoring of PMICC, joined the BA Day. Rainer highlighted an expanding importance of BA in the world for making projects more sustainable and worthful to all stakeholders and to the revenue of enterprises in particular.
But also, for NPO's like Managers Without Borders Foundation gGmbH BA cannot be neglected for making sure that charity projects in Africa will be successful so that all stakeholders such as project initiator asking for support, project sponsor (foundation) and volunteering managers taking their time will end up in a win-win situation. Only by doing so, further projects will be able to be conducted.
The foundation managerswithoutborders with its headquarter in Stuttgart was founded more than 10 years ago. The central vision of the foundation is, that poverty can be defeated by economic development of independent structures such as SME's, cooperatives, etc. Instead of providing financial aid to project partners in developing countries, theManagers Without Borders Foundation gGmbH support local entrepreneurs by transferring know-how of managers and so building capacities of the local partners through tailor-made consulting.
Helene Proelß, foundation owner, shared her insights from Africa with full of hunger and poverty where any help and support are more than welcome for making Africa a better place to live. Of course, those projects should give people in Africa a temporary support to make them capable of helping themselves later on. For managers from developed countries it is a challenge and an experience at the same time which make them grow, mature and esteemed. So, could it be something for you? If so, please get in contact with Sabine Ostlender (t: +49-2404-91391-0).
In the following several sessions were held about various BA topics in parallel so that only a few of them are listed here because I attended them myself.
Stefan Bossuwé, President of the IIBA® Brussels Chapter and one of the first Certified Business Analysis Professionals™ (CBAP®) in Belgium and Luxembourg, introduced his participants into the holistic business analysis. 'Holism' originates from the Greek word 'holos' which means 'all', 'whole', 'entire' … that pretty much describes the approach of comprehensively regarding an enterprise as a whole and not only as a bundle of projects, activities and its assets. He presented his model comprising 'business', 'solution' and 'project' scope and how they are linked. He made his audience aware that once a business strategy is established, a business context model can be created reflecting the business scope. From that business scope, the holistic business analyst can, together with the relevant stakeholders, derive the solution and eventually the project scope. A brilliant take away that shows how a BA is indispensable from any business activities at enterprises.
Apart from any data at enterprises, there are also a lot of processes that may be more or less efficient. Rudolf Kuhn, CEO of Processgold AG, showed his audience on how to gather any process data and to visualize (process mining) it for a further analysis. It is all about transparency that helps enterprises to identify any gaps or flaws in its processes in order to become more efficient and competitive in nowadays' business world. It is crucial for the workforce and the management of an enterprise to know on how to become better soon by means of a dash board reflecting their situation in a very simple but also very precise way to deeply analyze where to tackle those gaps and flaws if necessary. His audience got very excited about his showcase to get to know more about it, but the time was expiring. If you are now interested to get to know more it here is a movie on YouTube for your convenience.
How projects can be controlled by an agile business analysis was a question that Ursula Meseberg, Co-founder and Managing Director of Microtool GmbH, Berlin, was elaborating on. An increasing number of changes in projects in relation to scope, stakeholders, regulations and other external factors do require an agile approach in making business analysis to create and keep up with any business values that enable prosperity to enterprises. Here, she described the most common business questions and how they can be tackled: What?, How?, Who?, and Return?
The Think Tank @ DLR, the German Aerospace Center, addresses long-term, strategic, complex, interdisciplinary and cross-sectional questions. One tool they use for addressing the different activities is project portfolio management. The track about portfolio management was another excellent take away from the BA Day. Ruediger Suess, Senior Strategy Analyst @ DLR, shared his expertise and latest thoughts on portfolio management which got quite comprehensive outlining from vision and mission of an enterprise until the performance of its individual projects. Here, it is important to know that there is no and only universal project standard as enterprises create, if at all, their own standard so DLR did in the past. Therefore, he emphasized that a project management handbook is an archive of good adapted practices. Adapted because it is not taken over from a known project management standard one-to-one but adaptively modified to the needs of the working force of an enterprise. Secondly, there are usually tons of lessons learned available in an enterprise, but no one is really making use of it as it was the experience of individuals going through an endeavor together called project, but it does not necessarily mean that the same circumstances, processes and people will meet in another project at the same enterprise again. So, he suggested to call it better lessons applied instead of lessons learned which sounds more universal but, indeed, it is not as it is a subject experience of individual people in a certain situation. My big thanks for this take away.
Patrick Steiger, Partner @ infometis AG, has given another review of the BA Day as a participant in German which is available under following link.
We from PMICC would like to thank IIBA® Germany Chapter e. V. for the invitation to an outstanding event in an exclusive environment full of knowledge, inspiration and good finger food. In the coming year we are looking forward to also joining the BA Day to be held in Eschborn/Frankfurt on May 17, 2019.
PMI Köln Chapter e. V.
www.pmicc.de
V.i.S.d.P. VP Finance & Sponsoring Robert Baumgartner, PMP, PRINCE2
A Full Day of Inspiration @ 1st European BA Day in Frankfurt on May 18, 2018