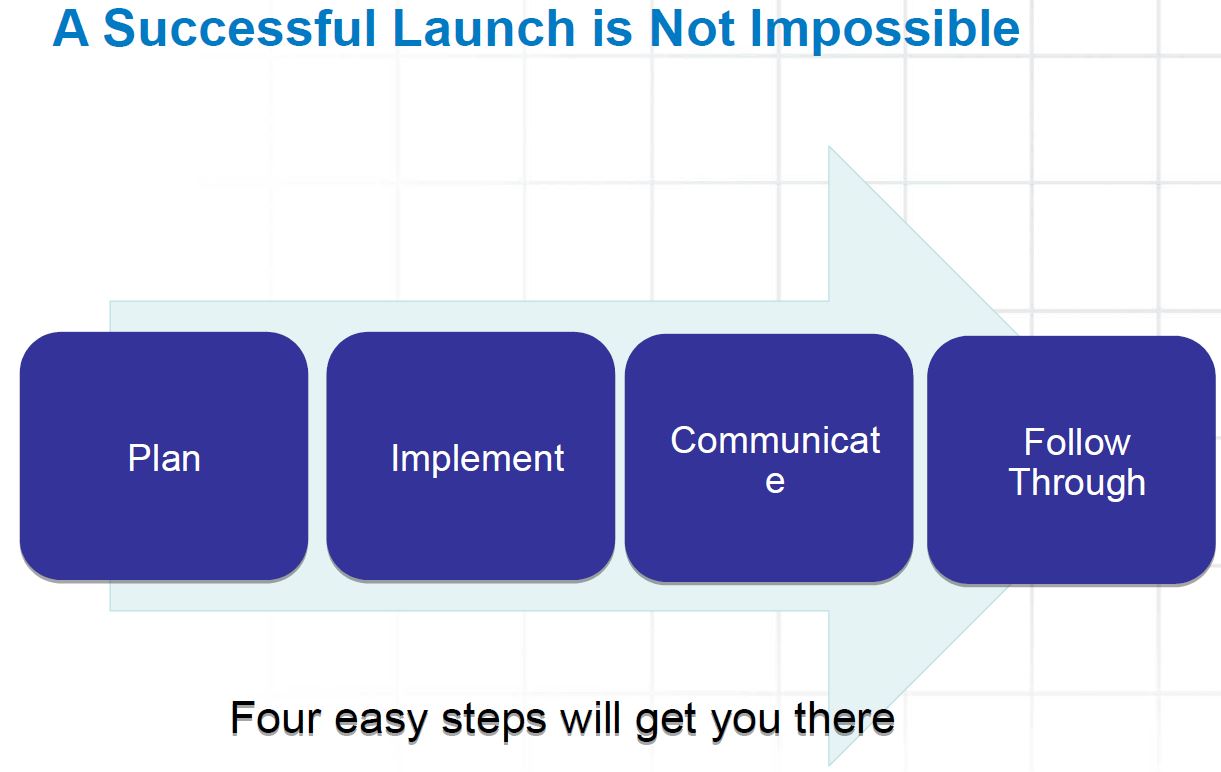 Our last webinar took place on July 11, 2017, and dealt with product launches, prerequisites and good practices. The webinar was delivered by Will Casavan at Aperture Product Management.
Will has been in product management for more than 15 years at small and midsize companies, and shared his insights and work experience on product launches, starting his presentation with definition what a product launch is about at all. Of course, you as a project manager know that a deliverable which can be a tangible product or an intangible service or a conceptual paper is handed over to the customer by the end of each project.
By giving practical examples such as Operation Paperclip and US Space Program, Will showed us famous product launches that have been rocket sciences and big breakthroughs in  technology. But product launches do not has to be related to any sciences at all.
Will explained why product launches are nowadays so important to consumers, companies, and societies. And he enlightened us in explaining why more than 75% of product launches  fail. Mainly poor planning at the beginning of a product launch, limited time and budget but also assigned staff such as project managers who are missing responsibilities and overlook lead to those failures.
In the next step Will showed us his own four stage plan that comprises of planning, implementation, communication and follow through. In combination with a basic timeline of 90 days, stakeholder management of everyone being directly or indirectly involved into the product launch, a project plan, and his preferred tool of doing a pre-mortem analysis throughout the phase of a product launch the whole presentation got rounded up.
In particular the pre-mortem tool is of quite a big importance for the success of a product launch as it asks all involved parties to think of things that may go right or wrong during such an endeavor in order to get prepared prior to its actual occurrences. Something that project managers do understand as a risk analysis but the pre-mortem goes beyond this in order to do anticipation much earlier than a mitigation plan comes into force so that it is becoming more agile than in the conventional project management practices.
Participants were also active in asking questions to get to know, for example, what is the minimum viable product piece that a company can successfully launch without ruining its reputation and profitability. A question that is not easy to answer but a product and / or project manager should make sure that products will satisfy end consumers by fulfilling their expectations. The question is more a sales and marketing rather than being any technical or practical question related to product launches in general but very important to consider before any implementation of a product starts at all.
We from PMI Cologne Chapter (PMICC) thank Will for his time and efforts in mutually preparing and conducting our webinar that has been a success like a product launch at the end of a project.
Robert Baumgartner, PMP, PRINCE2
VP Finance
PMICC
Webinar @ PMICC: "Impossible Mission: Product Launches"